Spray on curtain mold remover.
Suitable for ALL colourfast: curtains, blinds, nets, drapes, thermal curtains and fabric linings.
No scrubbing.
No taking curtains down.
Mold vanishes in minutes in front of your eyes.
Product comes ready to use.
Contains +/- 1% sodium hypochlorite and a number of non-toxic ingredients.
Background: Curtain Magic Mold Cleaner is manufactured weekly, it has been the go-to mould removing solution for people-in-the-know in the USA and Canada since 2010.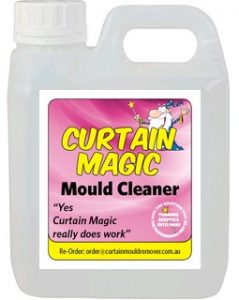 Which Window Furnishings Can I Use it On?
Suitable for ALL colorfast: curtains, blinds, nets, drapes, thermal rubber backed curtains, fabric & cotton linings, block outs, roller blinds, vertical blinds, venetians, polyester curtains, fabrics & more.
How to use: Curtain Magic can only be used on colourfast window furnishings. You can check a hidden area of your curtains for colorfastness with any bleach-based solution you may have at home. Once you've established that your curtains are colorfast you can spray Curtain Magic liberally on the moldy area, taking care to protect your clothing or any other nearby surfaces from any stray spray. Stubborn mould may require several re-sprays with 5 minutes wait in between until all the mold is gone. Please make sure the applications are liberal so the product drips off the material, otherwise just misting the product won't achieve the required results.
Coverage: The coverage of the product depends on how much mold you have, how thick your curtains are, how old the mold is, how big of an area you need to cover. Generally the 32oz size is only a sample size and it may only be enough to treat 1-2 curtains. The 136oz size is our most popular deal and it comes with a bonus free sprayer. The 136oz container is generally enough to treat the bedroom curtains of an average size home.  The magic of our product is in what it does and how easily it does it, not in how big of an area it can be stretched over. So in some cases, with thicker curtains and older mold, you may just have to be patient and apply it several times with 5 minutes wait in between until all the mould is gone.
What about old mold: Curtain Magic can get rid of mold that is many years old – but you may need to respray it a number of times in order to get rid of all of it. Mould can take months, and in some cases years, to grow and spread – so while our product can get rid of the mold in minutes, in some cases it may be a few extra minutes than what you can see on the video.
Where to buy: In order to keep your costs down, we don't operate retail stores, so Curtain Magic is only available from us online and is dispatched daily from our warehouse across the USA and Canada. We are not open to the public for pick ups.
Shipping: Generally is takes 5-10 business days delivery.
Who uses it: Professional drycleaners, commercial laundries, hotels, motels, caravan parks, house cleaning companies, onsite curtain cleaning services, nursing homes, boat & caravan cleaners, and 1000's of home owners use our proven DIY Curtain Magic Mold Remover products!
Useful life: Curtain Magic is manufactured in fresh batches every week, so when you receive the product, it is only a few days old. For optimum results, please make sure you use it straight away or within a couple of weeks of receiving it – as it loses its effectiveness over time and it becomes inactive approx 6 months after receiving it.
Precautions:
Keep out of reach of children or pets.
Store in a cool, dark place (if any product is left after treatment). Make sure the lid is tightly closed. Product will expire approx 6 months after receiving it.
Do not use if you are pregnant or lactating, have an allergy to sodium hypochlorite or have any other conditions that prevent you from being able to use cleaning chemicals.